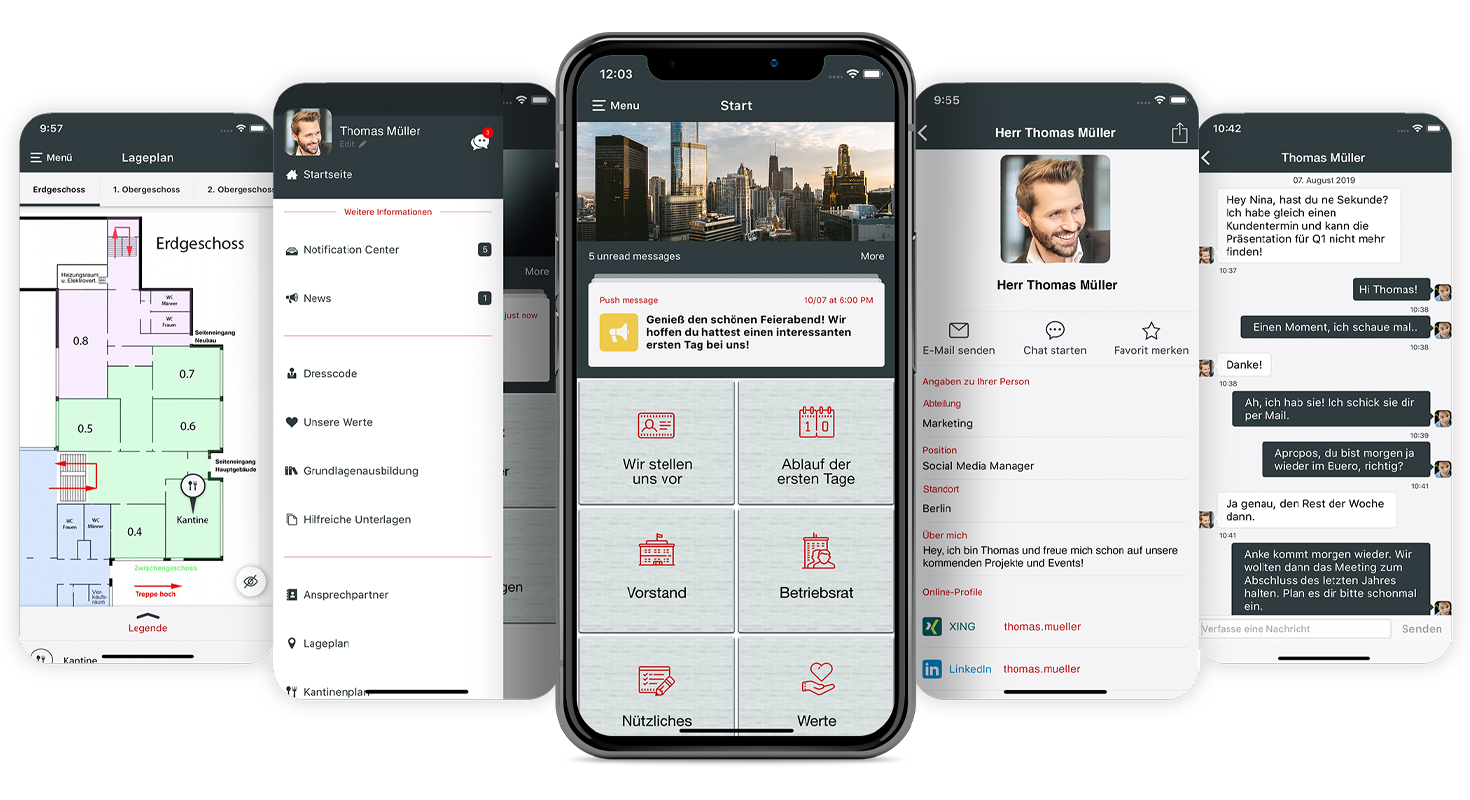 How Mobile App toolboxes solve IT bottlenecks
The demand for digital solutions is growing rapidly. The MINT report of the Institute of German Economy and other studies illustrate how dramatically the gap between supply and demand has grown within just a few years: There is now a shortage of over 100,000 IT specialists in Germany. Companies, departments and the IT department itself must find new ways of coping with this situation. SaaS modular systems or toolboxes for semi-automated app creation partially solve the big challenges of the IT industry, emerging from a lack of skilled workers.
App creation through modular toolboxes
Instead of letting your developers code endlessly for themselves, modular No-Code systems such as the Mobile Event App, for event organization and communication, or the Mobile-Employee App for employee communication, enable departments to independently set up a large number of mobile applications and operate them as a SaaS.
App self-service tools are booming. Whereas "make" was usually the prevalent motto, a shift to "use" has recently been taking place: best possible user experience, quick and economical product provision, supplied with regular product and security updates, so that your IT department only has to focus on tasks regarding data security and data governance.
App management for non-IT professionals, due to modular semi-automated toolboxes
Global and industry-leading companies have long since adopted this approach to external app delivery and operation in their day-to-day business. SaaS services such as the Mobile Event App or the Mobile Employee App, enable acceleration of digitization processes and result in significant optimizations in the areas of sales, HR, communication, marketing and customer service. A multitude of customers are already convinced and commend how easy to use the IT platform MEA actually is.
Adjustable platform with "drag & drop" instead of programming
The MEA app construction kit enables easy creation of customer-specific user interfaces and app designs in the CMS without any programming efforts. App administrators can usually activate individual functions via drag and drop, create dashboards and menus, and use editors to easily incorporate content for agendas, push messages, surveys or custom pages.
Event calendars, event information, news feeds, social walls, images, videos, PDFs and survey tools – based on the standard package, the platform can be extended by numerous features, such as quizzes, matchmaking, geofencing etc. depending on organization-specific requirements. The option of developing and programming individual functions still remains open for customers.
In addition, employee or group-specific access rights can be defined via a central authorization system. External data sources such as Xing events can also be easily connected. Furthermore, it is possible for CRM or ERP systems to access the MEA platform via API. Thus, customers, employees and business partners can be reached in real time, wherever they are. The created applications are available as native apps for iOS, Android and as a web app, ensuring the highest possible device coverage. Easy-to-use controls and a straightforward UI design render the application of use cases clear and user-friendly.
Decline of desktop PC usage
Mobile applications are the future, especially for internal communication, while communication via mail on desktop devices is becoming less popular.
The first app draft for testing is usually available to customers within a few days. Finished app projects, with all customizations, are usually completed after about ten days.
Compared to conventional programming, a work effort calculation is nearly impossible, since more than 30,000 man-days of development have already been invested into the app platform, which contains more than 40 functions.
Customers are consistently enthusiastic about the fast deployment, large range of functions, but also the continuous development effort of the platform itself.
The Mobile-Employee App enables companies to reach their entire staff simultaneously with up-to-date information – no matter where they are, what work they are doing or what language they speak. "This way, we remove barriers and enable successful internal communication, whether in large and international or medium-sized and regional companies," explains Stephan Rode, BD Manager for the MEA.
The MEA's customer list can boast almost 500 b2b customers; of which 14 are DAX listed companies, numerous ministries, associations, clubs, congress organizers, agencies and software companies, which belong to the growing customer base of the comprehensive modular app solution.
#Enterprise solution, #WhiteLabel-app, #b2b-apps, #Eventapp #Employee app